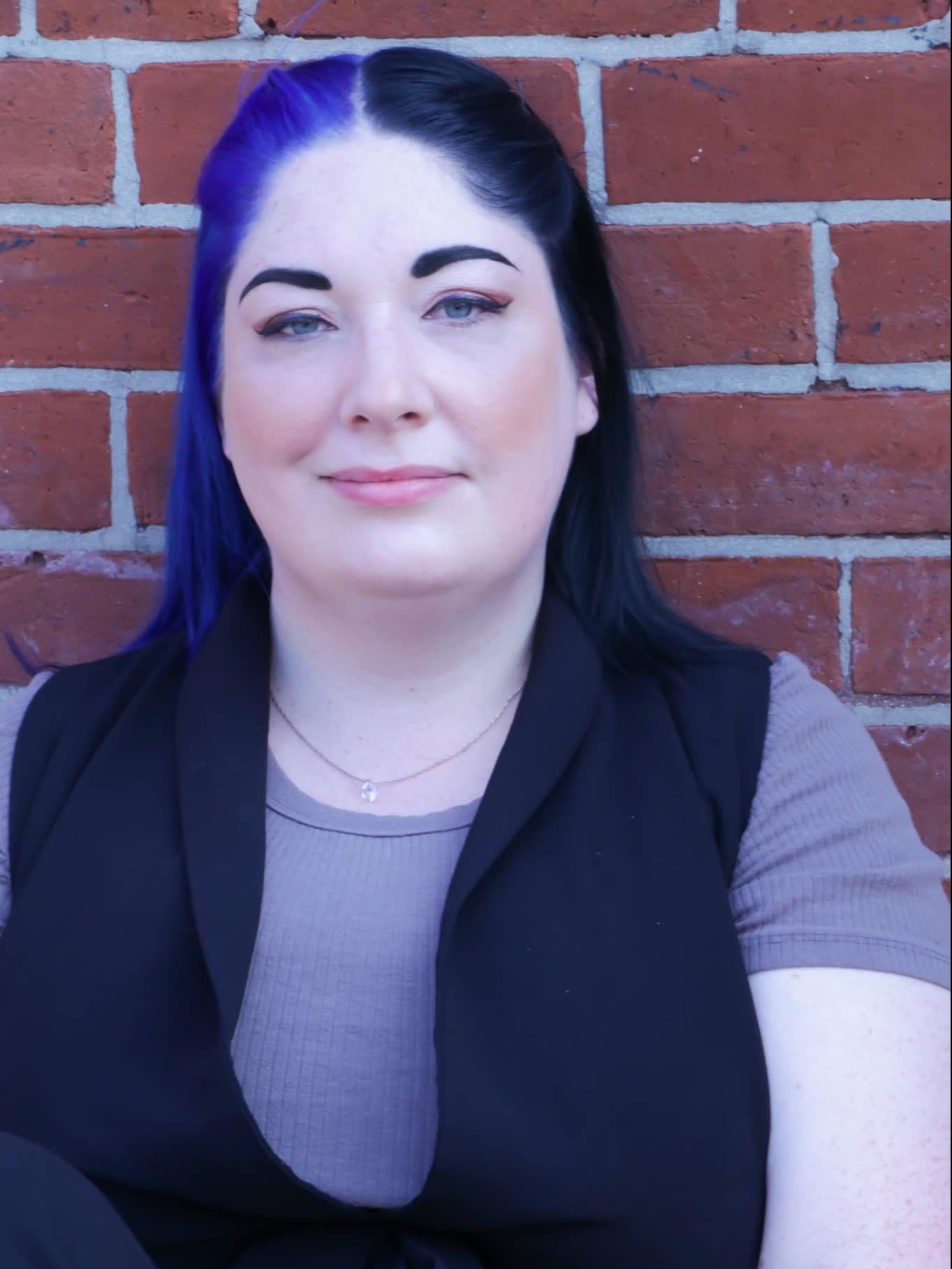 Casey is the founder and Artistic Director of Catalyst Repertory, which technically started as 'Casey Ross Productions,' in 2015. The Catalyst Repertory name change was put in place to reflect the Artistic Team established over a decade of making theatre together.
Casey is a playwright, director, designer, illustrator, and the Artistic Director and founder of Catalyst Repertory Theatre. Casey has become a veteran playwright, through her work at the IndyFringe, amassing a collection of critically acclaimed plays. Some of Ross's most notable works include her published trilogy of plays, The Gallery Trilogy, her love letter to comic books, Copyright/Safe, and her bawdy 'stage-sitcom,' the Tortillo! series. Ross is also an acclaimed director in the Indianapolis area, with her celebrated productions of The Pillowman Equus, Tooth of Crime, Coriolanus, Taming of the Shrew, Timon of Athens, The Diviners, and more. Most recently, she was praised for her conceptual design and direction of her 2022 IndyFringe offering, Tortillo! 3: Sombrero's Revenge. In 2017, Ross alongside Co-Artstic Director, Dave Pelsue, won the IndyFringe 'Best Vetern Producer' Award, solidifying her as one of the festival's key players. Ross's next major projects will be the conceptual design and direction for Catalyst's intimate collaborative production of A Streetcar Named Desire, coming to the stage, this March, as well as, Catalyst's June revival production of Broadway oddity, Starmites, both taking place at the IndyFringe Basile Theatre.
It's easy to pick out the writer's who have influenced director and playwright, Casey Ross, in the types of plays she selects to direct. From Catalyst's 2016 award-winning, Nuvo's Best Play of Indy (2016), Equus  to our still-talked about 2017 production of Sam Shepard's rarely-staged, Tooth of Crime – Ross has proven to be a director with a bold brush stroke.
Ross's notable Directorial Works Include:
Shakespeare's Timon of Athens (2015)
The Diviners, Jim Leonard Jr (2016)
Equus, Peter Shaffer (2016)
Shakespeare's Coriolanus (2016)
Tooth of Crime, Sam Shepard (2017)
The Seagull, Anton Chekhov (2017)
Shakespeare's Taming of the Shrew (2017)
The Pillowman (2022)
As a director, Ross focuses on design, detail, and the actor. In founding Catalyst, it was important for Ross, a director attracted to difficult plays, to be able to establish the trust and intimacy needed within the repertory to safely and effectively produce the hard-hitting theatre that the Catalyst Repertory brand has become synonymous with. 
Ross is also a multi-disciplined theatrical designer and will often wear many design hats while directing a show. She believes strongly in the director's duty to build the a full world – which has led her to implement many bold concepts onto classics, holding true to the Catalyst brand. Be it concept design, character and costume design, props, sound, or painting – you can be assured that Ross's directorial outings will be curated down to the finest details to ensure the play at hand always shines. 
As a writer, Ross seeks to write shows that focus less on theatre spectacle or large-cast action sequences and more on dialogue-driven, character development pieces, that work for more intimate houses, as Ross is very passionate about Fringe festival theatre. Hers are plays intended to showcase skilled actors and rhythmic dialogues. They are also plays that focus on real human relationships, without pulling punches in, sometimes harshly, naturalistic dialogues. Ross aims to make her scripts as accessible as possible to any theatre's budget. Whatever the case may be, her scripts should be successful under a wide range of circumstance and stagings—which also allows for the interpretive and collaborative magic of the theatre that has married her writing to the stage.
Major Works:
Gallery (2007)
Slaying the Dragon (2008)
Tortillo! (2008)
Queue (2010)
The Solidarity (2013)
Portraits [Like American Gothic] (2014)
The Ripple Effect (2015)
Hell's 4th Ring [The Mall Musical] (2015)
Tortillo! 2: Dickens Rising (2016)
Canvas (2017)
Arcadefire! [The Redemption of Billy Mitchell] (2018)
Copyright/Safe (2020)
Tortillo! 3: Sombrero's Revenge (2022)
Bat in the Wind (In Progress for the 2023 IndyFringe)
OWN "THE GALLERY TRILOGY"
Includes: 'Gallery,' 'Portraits,' and 'Canvas' with a forward by Casey's playwrighting mentor, Professor Paul Hildebrand.
The Gallery Trilogy: Three Plays by Casey Ross includes the full series of Ross's three plays that follow 10 years of a friendship between two disparate artist-best friends. Conceived when Ross was in school at alma mater, Hanover College, the goal of these three plays was to follow and age a set of characters through the actual amount of years between play premieres. The writer was to grow up with the characters through their mutalually aging voices.
All three of these plays were originally produced through the IndyFringe Festival as episodic chapters and have become local favorite plays. They have also been staged as readings and virtual shows, through several collegiate programs. Art acts as a metaphor for life in these modern sharp-witted plays, as we follow Jackson's unswayable passion and Frank's perhaps self-stifling technique, over 10 remarkably human years.
Recommended 16+
Our Artistic Director, Casey Ross got to sit down with vetern theatre journalist, Tom Alverez to talk about local theatre, the formation of Catalyst Reperoty, long term goals of the theatre, and their 2022 season production of The Pillowman.