ANNUAL SEASON CELEBRATION GALA
A new Catalyst Repertory tradition, established in 2022, in celebration for our 7th theatre season. Catalyst Repertory's Season Celebration Gala is our annual benefit to kick-off our main-stage season – with the party of November! You'll enjoy chef-curated refreshments and beverages, a cabaret – featuring selections of shows upcoming and past, a silent auction, and an art sale – featuring some of Indy's favorite local artisans…and more! In partnership with IndyFringe, this benefit gala helps to support Catalyst's Main Stage season shows. The ticket, bar, art and auction sales all benefit Catalyst in our mission to continue creating new, thought-provoking, and exciting theatre in Indianapolis. Join Catalyst, every year, at our annual benefit and help to support one of Indy's favorite locally-grown, fringe theatre institutions – proudly serving our theatre community for a decade – and decades more to come! New is what we do!
WATCH THIS YEAR'S GALA ON YOUTUBE!
Every year, Catalyst will select an MC that exemplifies our artistic aesthetic and mission to host our cabaret and be featured within it. Part of a great party is a good host, after-all.
(2022) KEVIN HOLLADAY – SCHEDULE C PRODUCTIONS, FRINGE FESTIVAL CREATOR
A BENEFIT FOR 'A STREETCAR NAMED DESIRE'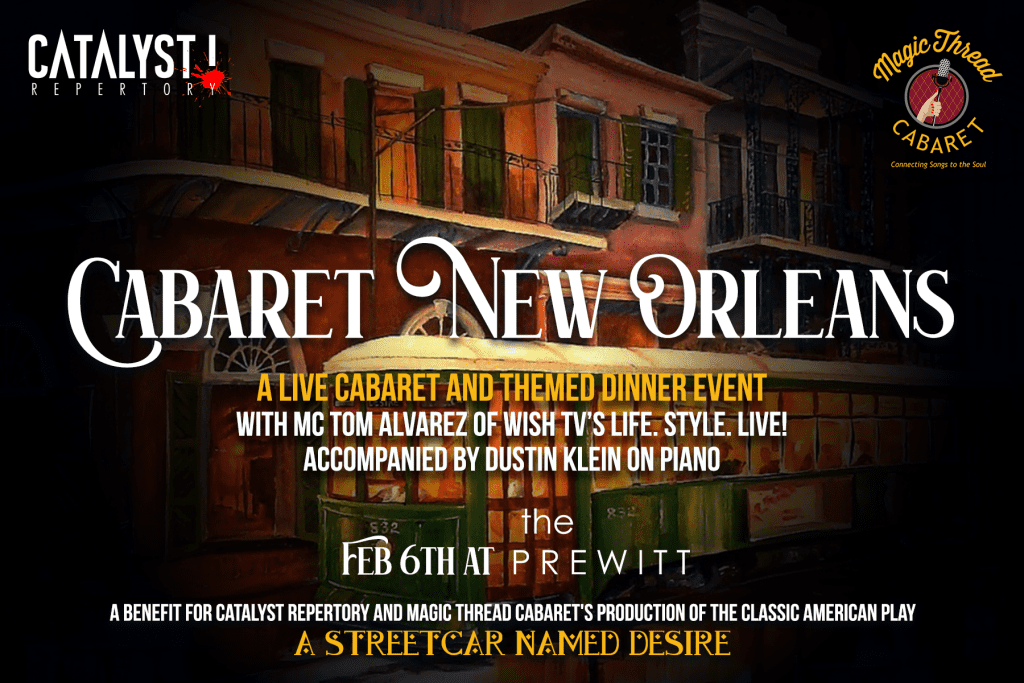 To benefit the landmark Catalyst 2023 production of Williams's stunning American masterpiece,
A Streetcar Named Desire
, we partnered with
The Prewitt
restaurant for a one-night-only benefit event.
A former 1920s theatre and located in the up and coming downtown Plainfield area, The Prewitt acted as the perfect location for this celebration, benefitting our 2023 season opener, A Streetcar Named Desire! Presented by our production partners, Magic Thread Cabaret, this benefit featured a curated NOLA themed 'Fat Monday' meal (Fat Tuesday was the next day – amplifying our appropriate New Orleans vibes!). We were thrilled to feature perfromers Joseph Perkins, Jr, special guest Amelia Wray and Dustin Klein on keys. The cabaret was MC'ed by Magic Thread's Managing Director, WishTV's and On the Asile's, Tom Alvarez. Audiences both theatre and food focused enjoyed a 3-course New Orleans themed meal and cabaret, while also supporting both Catalyst and Magic Thread in our creation of our 'Streetcar.'